By customizing, simplifying, and combining screens, GuiXT enables organizations to make transactions within the SAP Purchase Order Module a lot easier to use.
Managing government procurement processes effectively requires integration across business functions and centralized data with real-time visibility. GuiXT has a solution designed specifically for government/public sector organizations and agencies that need to simplify their SAP Purchasing applications.
In fact, GuiXT accelerates the simplification and usability of most SAP transactions. Contact us to learn more.
---
Purchase Order
Challenge
The challenge faced by many organizations using SAP today, are the unintuitive SAP screens that create inefficiencies for employees who are not SAP power users. Missing information delays the approval process. The end result of this is weak productivity results and a decrease in customer and business partner satisfaction.
Solution
GuiXT streamlines purchase requisition and purchase order screens, which takes the guesswork out of where and what fields to enter data. New GuiXT'd intuitive interface displays data based on account assignment category. There is also a reduction in data entry errors that can be seen after radio buttons for fields like GL Account and others are created. On top of all that, GuiXT decreases and sometimes eliminates training with the introduction of on-screen instructions and help menus.
GuiXT Simplified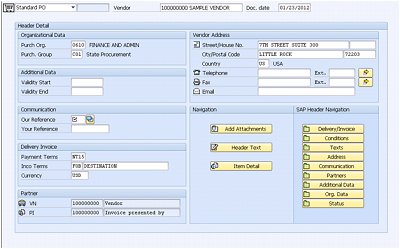 ---